29.1.2012 Mikko Pajunen´s lucky escape in Rovaniemi The Finn finished third in Arctic Lapland Rally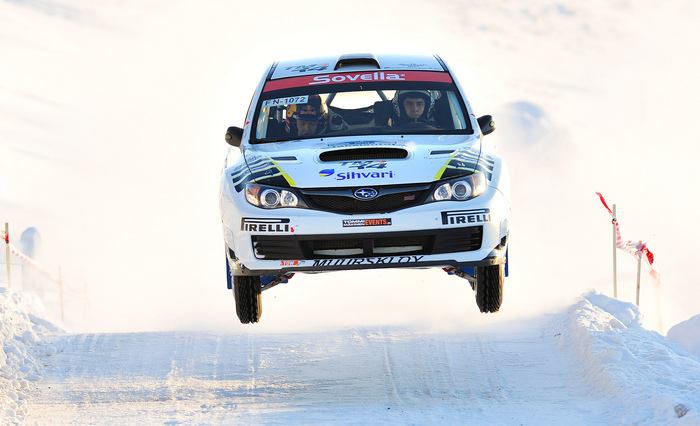 Mikko Pajunen continued his podium tour in the Finnish Rally Championship. The Finn from Jyväskylä finished third in the Arctic  Lapland Rally in Rovaniemi.    Pajunen, who drives in Tommi Mäkinen Racing´s four- wheel drive Subaru, almost lost his change of a top three finish on the fourth stage on Friday, but some lucky events turned his fortunes around.

Pajunen and his co-driver Kaj Lindström lost some ten minutes on the stage. Due to irregularities in the starting intervals of the leading drivers, the fourth stage was disqualified from the overall results. Some of the drivers left two minutes behind the previous car, others only a minute. The ones with a longer break had an advantage because the snow dust had already settled on the ground, whereas the cars with the shorter break had to drive through a white cloud.

- In that sense we were very lucky. It´s nice that it happens this way for a change. We had to stop on that stage and change the air filter which was full of snow. Our lungs we clogged up so to speak, and the engine was coughing, told Pajunen.

Third place was good for the championship standings. If the fourth stage had been included in the results, Pajunen would have finished just about in the top ten.

However Pajunen was not happy with his performance. Esapekka Lappi won the event before second place Juha Salo. Top3 was thus the same as in the opening event in Riihimäki. Pajunen was three minutes behind the winner.

- The truth is the others went faster. We had some problems with the car. Even at the beginning I thought something was wrong when we were so much slower. It felt very slippery and the car was hard to turn. We searched for the problem in the chassis. Finally we discovered that the front diff was broken. In the last service we changed the gearbox, and that helped. The last couple of stages went a lot better, said Pajunen.

The Finnish rally season continues at the end of February in Mikkeli. Before Mikkeli Pajunen and Lindström will travel to Sweden to participate in the WRC event in two weeks time.
Text: Miiro Koivula
Photo: Marko Mäkinen
« back to news