11.10.2014 Pajunen retired in Rally Due Valli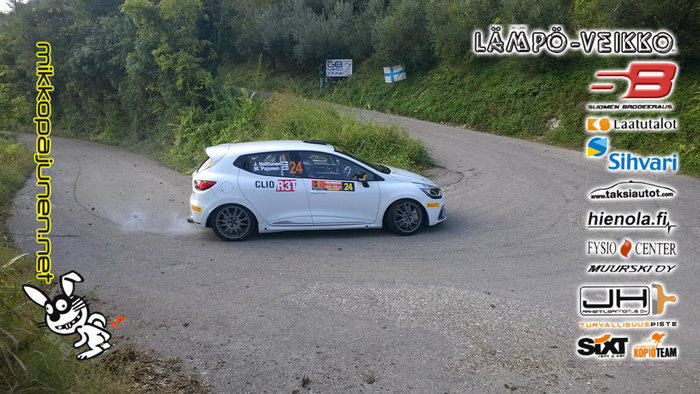 Finnish Mikko Pajunen and Jonne Halttunen participated Rally due Valli as a prize of winning Italian manufacture championship. They drove with totally new Renault Clio R3T.
- The car is a brand new. There is much more power and shock absorbers are new and also the brakes are better, tells Pajunen before the rally.
Rally Due Valli was driven on asphalt and got eleven stages during three days.
The weather was very foggy and roads were slipery on second day of the rally. Morning started well and Mikko took the best time in the first stage (SS2) on Saturday. Troubles started on stage 3.
- It was very difficult, there are places where you canŽt see anything. Very hard, told Pajunen in the end of stage 3.
On the stage 4 spined Pajunen in the cross roads and got stucked in a ditch. He lost almost seven minutes.
After the service changed weather even worse.
- It rained cats and dogs and we had the dry weather tires. The car rose out of the road and we slided to the small ravine. The car is not damaged and we probaply could continue tomorrow, but weŽll get so much time lost that it doesenŽt make sense to continue, says Halttunen in Saturday evening.
« back to news