5.7.2014 Pajunen won class R3 in Rally San Marino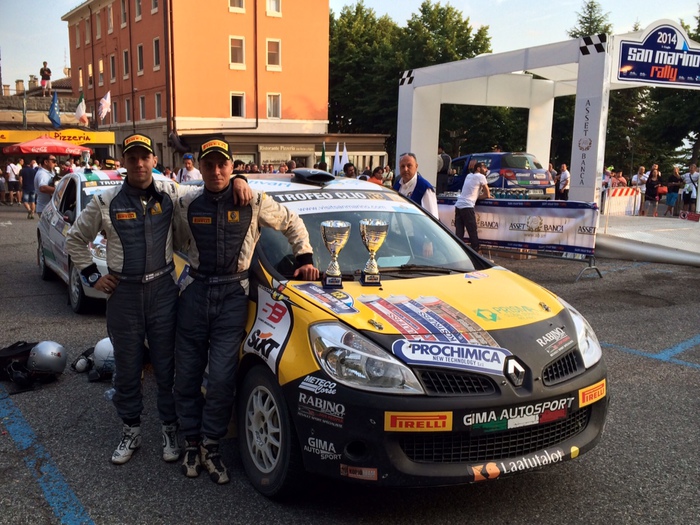 Pajunen got 15.3 second lead after first stage and in the end of the day it crowed to 23 seconds in the R3 class in Rally San Marino. Rally San Marino is part of the Italian Rally Championship (Cir). Mikko´s co-driver is old fellow Jonne Halttunen also from Jyväskylä. They drive with GIMA Autosport´s Renault Clio R3. On friday were driven four stages.
Pajunen got three fastest time of the four in class R3 in friday. But it did´t came without problems.
- In the first stage there was a car across the road and Ihad to slow down pace a little bit. The roads were in a very rough condition, said Pajunen evening service.
The third and fourth stages were driven on tarmac surface. It was over a year ago when Pajunen was on tarmac last time so those were challenging.
- It was difficult because I haven´t been driving for a long time on the tarmac. But never the less it was a fun, tells Pajunen.
Second day started also in Mikko´s command.
After morning stages had Pajunen also problems.
- We have no more front tires anymore, said Pajunen the morning service.
After 7 stages Mikko was leading 29.8 seconds. Rest of the day he´s only tarket was keep the pace.
During the day nabbed Pajunen and Halttunen four best times of eight.
- The stages were demanding and the road conditions were really hard to 2WD car. Lucily we got the good pace so we had time to drive carefully. A thirty-degree temperature gave ekstra challenge to this rally. So you can really call this sporting. Driving suites weigh quite a lot, says Pajunen with laughing.
In the finish line the ccap between Mikko and Nicolo Marchioro in the second-place (Renault Clio) was 21.1 seconds. Third in the class was Fabrigio Andolfi junior.
The fastest 4WD car was Paolo Andreucci with Peugeot 208 R5.
The next time Pajunen and Halttunen are on the stage 29.8.2014 in the Rally del Friuli Venezia Giulia.
« back to news